---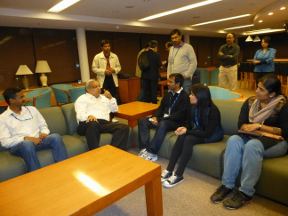 A get-together was held in Tsukuba on March 19, 2013, for interaction of Indian researchers with Dr. G. Sundararajan, Director, ARCI, Hyderabad, who was visiting National Institute of Materials Science (NIMS), Tsukuba.
On invitation of NIMS, Dr. G. Sundararajan visited to extend collaborations with ARCI. Dr. R. Gopalan, Head of the ARCI Center for Automotive Energy Materials, Chennai, also visited NIMS supported by JSPS. Prof. A. Suzuki is from Yokohama National University, and currently the President of Materials Research Society of Japan.
Dr. Sundararajan and Prof. Suzuki are the coordinators of materials science division of DST-JSPS program from respective sides.
Also present were Dr. Naoko Kishimoto, Auditor, NIMS and a group leader and a senior researcher of NIMS, besides Dr. Alok Singh, Vice Chairman and Dr. Sunil Kaul, Chairman of ISAJ.
About 12 researchers from NIMS and other institutions participated in the get-together."