You are here2013 ISAJ Symposium
2013 ISAJ Symposium
---
India-Japan Symposium on Frontiers in Science & Technology: Emerging Materials for Health, Environment and Safety
Venue: Indian Embassy Auditorium, Tokyo
Date: October 11 2013
Honorary Patron: H.E. Ms. Deepa Gopalan Wadhwa, The Ambassador of India
Honorary Advisor: Dr. Chadaram Sivaji, S & T Counsellor, Embassy of India

The Indian Scientists Association in Japan (ISAJ) organized 4th India-Japan Symposium on October 11, 2013, at the Indian Embassy Auditorium, Tokyo. The main theme of this year's symposium was "Emerging Materials for Health, Environment and Safety."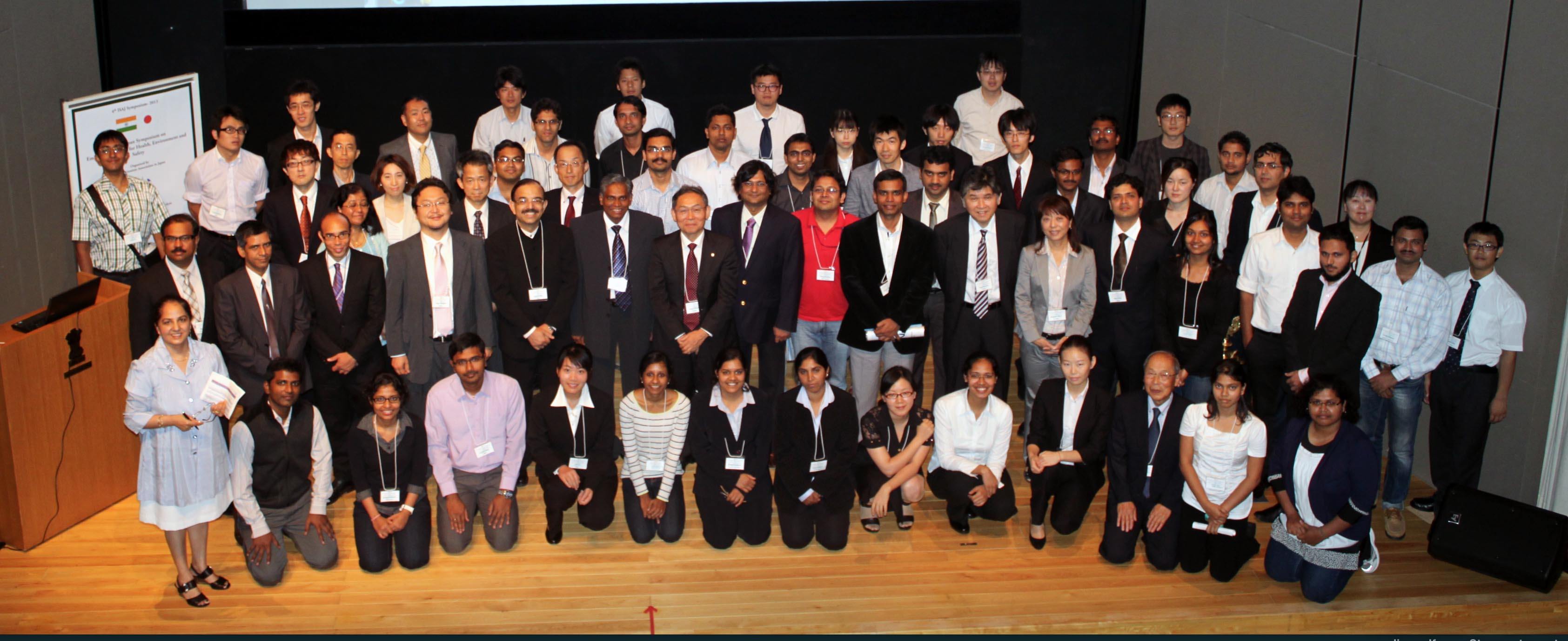 Convener:
Dr. Alok Singh
Co-convener:
Dr. Baiju G. Nair
Organizing Committee:
Dr. Sunil Kaul
Prof. Swadhin Behera
Dr. Kedar Mahapatra
Prof. D. Sakthi Kumar
Dr. Manish Biyani
Prof. Ruby Pawankar
Dr. Anila Mathew
Dr. Samik Ghosh
Dr. Vijay Kumar
Mr. Saurabh Sharma
Dr. R. Arockia Kumar
Dr. K.S. Suresh
Dr. Sachin Shah
Dr. Jyotheeswara Reddy Edula
Dr. Aniruddha Adhikari
Ms Tuba Zahra
Mr Mahendra Kumar Pal
Mr Shanthanu R. Menon
Dr.Manoj Eradath
Dr.Kanaka Raju Pandiri
Plenary Speakers:
C. Sivaji, Embassy of India
Kenji Oeda, RIKEN (Keynote)
Daisuke Fujita, NIMS
Neelam Ramaiah, University of Tokyo
Yoshihiro Ito, RIKEN
Madoka Takai, University of Tokyo
Hiroshi Abe, Hokkaido University
Biju V. Pilai, AIST
Tahei Tahara, RIKEN
Takuya Nakashima, NAIST, Nara
Teruhiko Matsubara, Keio University
Masanobu Naito, NIMS
Hideki Abe, NIMS
C. Subramaniam, TASC/AIST
Toshiji Mukai, Kobe University
Asima Sultana, AIST
Panel Discussion: moderated by Sanjeev Sinha (Sun and Sands Group) "The role of Indian scientists in Japan in bridging the S&T between India and Japan"
ISAJ is a forum of Indian Scientists in Japan registered as an NPO with a vision to strengthen India-Japan collaborations in the field of Science and Technology. India-Japan Symposium organized by ISAJ provides a platform for both senior and young Indian researchers and their Japanese counterparts and other colleagues to share state-of-the-art information in their respective fields.
There will be a registration fee of Yen 3,000 to cover for lunch and tea/coffee. Students are exempted!
We look forward to your active participation and make this event a great success!
For inquries:
Dr. Alok Singh (alok.singh@nims.go.jp) or Dr. Baiju Nair (bgnair06@gmail.com)