You are hereISAJ Symposium-2020 Announcement
ISAJ Symposium-2020 Announcement
---
11th ISAJ Annual Symposium
---
India - Japan Web-Symposium on
Innovations in Science & Technology for New Issues and Challenges
December 04, 2020 (Friday)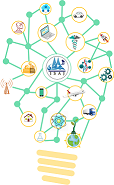 Honorary Patron
H.E. Mr. Sanjay Kumar Verma
The Ambassador of India to Japan
Honorary Advisor
Dr. Usha Dixit, Counsellor (S&T), Embassy of India, Tokyo
Organized by:

Conveners
Dr. Swapnil Ghodke
Dr. Bhupendra Sharma
Dr. Mahendra Kumar Pal
Organizing Committee:
Dr. Ram Avtar
Dr. Elango Chandiran
Mr. Trishit Banerjee
Dr. Manjiri K. Deshpande
Dr. Divya Anand
Dr. Shreya Arora
Dr. Frank Wilson Amalraj
Dr. Prerna Joshi
Dr. Santosh Gothwal
Dr. Sharath Srinivasamurty
Dr. Tanima Biswas
Advisory Committee:
Dr. Sunil Kaul
Dr. Alok Singh
Dr. Kedar Mahapatra
Dr. Swadhin Behera
Prof. D. Sakthi Kumar
Prof. Ruby Pawankar
Dr. Renu Wadhwa
Prof. Atsushi Suzuki
Dr. Manish Biyani
The ISAJ Symposium aims to bridge India and Japan's researchers/scientists by bringing them together to showcase their research achievements, exchange ideas, and foster collaborations, mutually beneficial to both the countries. ISAJ has been organizing this interdisciplinary symposium annually for the past ten years to provide a platform for Indian academicians, researchers, and students based in Japan to showcase their latest scientific achievements together with their colleagues in Japan. Renowned experts in different science and technology fields share their knowledge and experience in plenary and invited talks.
This year the ongoing global pandemic "COVID-19" has come as a shock to the society, health system, economic activities, and government policies worldwide, posing new issues and challenges. The symposium will devote a special interest session to understanding the role of science, technology, and engineering to address "New Issues and Challenges" created by COVID-19.
The symposium will enable scientists to reflect on how various science, engineering, and technology disciplines can be better integrated towards creating innovative solutions to help tackle this current challenge and be better positioned to solve future issues through the latest innovations.
Sessions will be designed around dedicated topics. Besides keynote and plenary talks by eminent scientists and researchers from both Japan and India, oral presentations and thesis challenge for student participants will also be organized.
The scope of the symposium
All fields of science and technology, including, but not limited to:
● Public Health and Wellbeing ●Plasma Sciences ●Cutting-edge Technologies
● Environmental Issues ●Sustainability ●Basic Sciences ●Material Sciences
Deadline for abstract submission: November 6th, 2020 (Friday)
Abstracts submission are encouraged for short oral presentations on any disciplines of science and technology at isajsymposium2020@gmail.com
Our Sponsors